Long-Term Care Travel Nurse Career Guide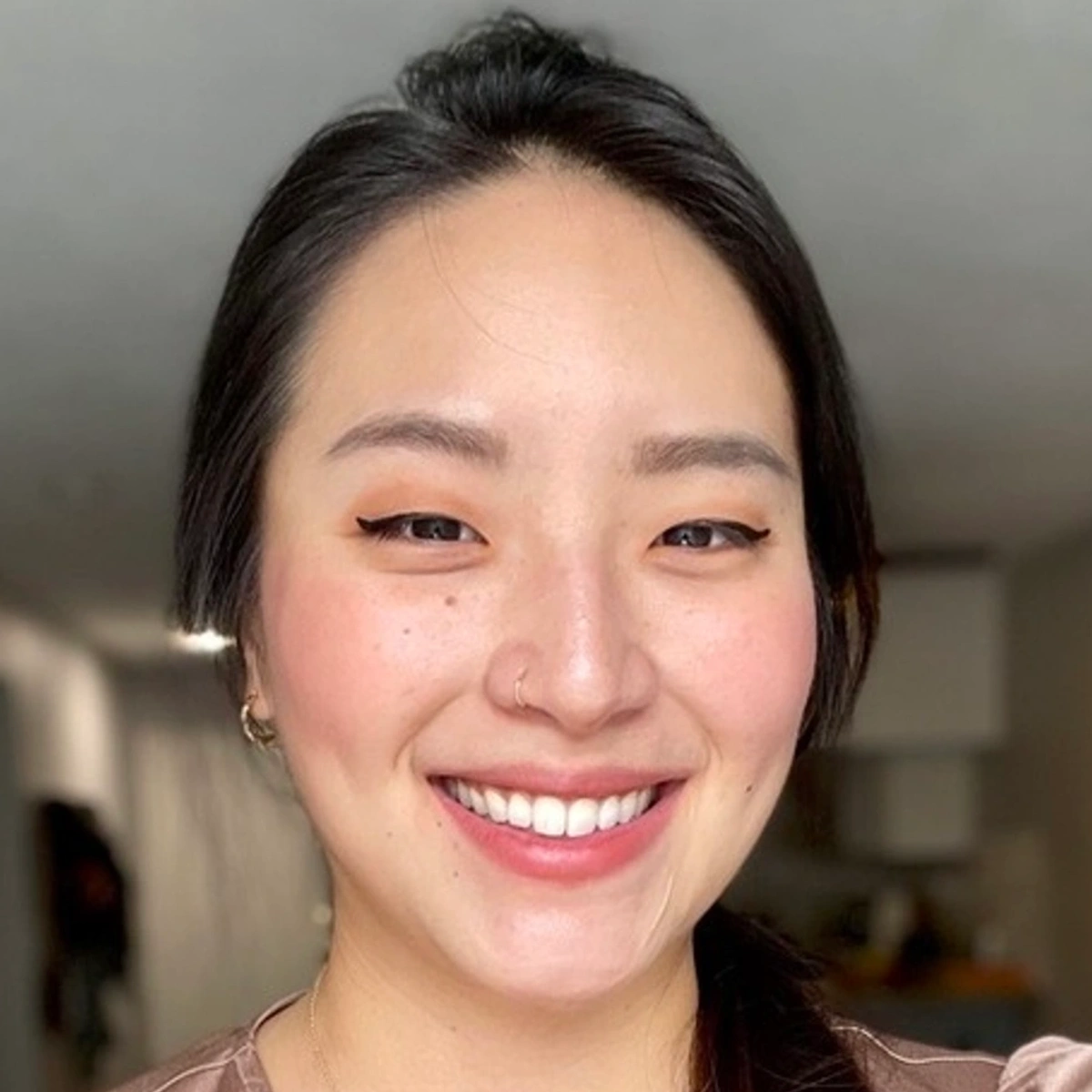 By:

Midge Lee, BSN, RN.

Updated:
September 1, 2023
Reading time:

5 min
Long-Term Care Travel Nurse Career Overview
Long-term care, or LTC, travel nurses are entrusted with the responsibility of caring for some of the most vulnerable and dependent people in our population today. Not to be confused with "long-term acute care travel nurses", long-term care travel nurses work in assisted living facilities (ALF), nursing homes, skilled nursing facilities (SNF), and inpatient rehabilitation units to care for those who are unable to live independently. 
Long-Term Care Travel RN Jobs With Nomad Health
At Nomad, LTC travel nurses can have a fulfilling travel career as a caregiver to those needing assistance with daily living and recovery from various illnesses, while also enjoying high pay and flexible job options. We understand the stress that LTC travel nursing can bring, so we offer benefits such as a 401(K) with matching and medical, dental, vision, and malpractice insurance. To offset expenses, we also provide additional reimbursements for scrubs, licensure, and certifications. We're committed to providing excellent benefits that help you feel secure so you can focus on providing the best care to your patients.
We empower our LTC travel nurses to have full control of their needs through our mobile app and job search engine. With them, you can filter by highest pay, location, ideal length of assignment, shift preference, and more. Although we don't have recruiters, our Navigator team is available to assist you from start to finish. While on assignment, you'll partner with a dedicated non-clinical Navigator who will be available to address any questions or concerns. For any clinical issues that may arise, you'll have the expertise and support of our Clinical Navigators when needed.
Join Nomad's travel nurse community

Sign Up
Long Term Care Travel RN Job Duties
Long-term care travel nurses fill a vital role in caring for patients who may be older and have disabilities; these patients are placed in long-term care facilities because they require prolonged assistance with daily living. A large majority of nursing home residents are over the age of 65, with more than a third aged 85 and older. They may require significant assistance with activities of daily living (ADL) due to physical and/or cognitive decline. Most nursing home residents are considered medically stable, but can be at high risk for injury or acute exacerbations of chronic conditions.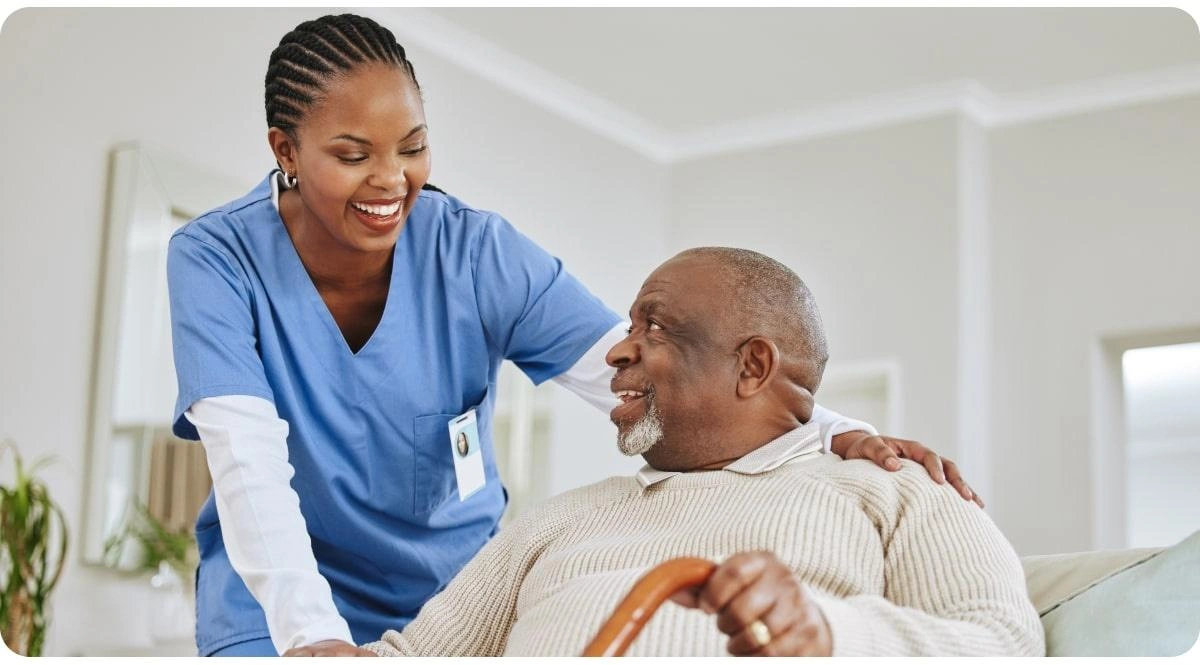 Promote Self-Care
According to the American Geriatrics Society's Health in Aging Foundation, a majority of nursing home residents need help with three or more ADLs, such as dressing, bathing, and eating. Almost all residents need supervision or assistance with ambulation and over half may deal with bowel or bladder incontinence (or both). LTC travel nurses in particular are instrumental in promoting self-care with support and guidance, as well as coordinating toileting schedules to decrease incontinence. Residents may also suffer from cognitive conditions such as dementia that affect their behavior, decision-making, and memory.
Rehabilitation
LTC travel nurses who work in settings like Inpatient Rehabilitation Facilities (IRF) or Sub-Acute Rehab facilities will encounter patients recovering from a variety of significant illnesses such as stroke, hip replacements, and heart attacks. They are required to receive a minimum of three hours of rehab a day, five to six days a week, as mandated by the Centers for Medicare Services (CMS). Unlike a nursing home, IRFs will have 24-hour physicians, providers, and nurses available to them, much like an inpatient hospital setting. Once discharged, these patients may either go home or to another facility like a nursing home.
Supervising and Operational Oversight
Travel nurses in long-term care can help alleviate the staffing crisis that many long-term care facilities face today while providing the compassionate care and attention that older individuals deserve. According to CMS, long-term care facilities are required to provide 24-hour licensed nursing care and an RN present for eight consecutive hours a day, seven days a week. A Director of Nursing is also required to be present on a full-time basis. If you are a registered nurse (RN) as opposed to a licensed practical nurse (LPN), you may be hired for a supervisory role like the Director of Nursing. This individual has operational oversight of clinical situations and emergency management. Depending on the state, this nurse may also pronounce patients when they pass away.
Administering Treatments, Medications, and Taking Vital Signs
If you're an LTC travel nurse working on the floor, you may be administering treatments (i.e. dressing changes) and medications (i.e. nebulizers), taking and assessing vital signs, inserting IVs, helping patients with their ADLs, and ensuring safety precautions for falls, pressure injuries, and aspiration. Most commonly, nurses are expected to perform weekly blood draws, evaluate the results, and notify the provider. Non-supervisory LTC roles also include conducting quarterly reviews, initiating and executing care plans, evaluating patients for polypharmacy, and providing opportunities for social and emotional well-being. LTC nurses will regularly collaborate with family members, social workers, MDS (minimum data set) nurses, and physicians to evaluate patient progress and changes in condition. In some settings, nurses may have to provide hospice/palliative care.
Popular Long Term Care Travel Nurse jobs

Long Term Care Travel Nurse Skills
As a LTC travel nurse, you'll be expected to possess a wide range of soft and hard nursing skills.
Infection Control and Prevention
Long-term care travel nurse jobs require expertise in core nursing skills such as infection control and prevention, wound care, collecting blood work, medication management, and implementation of evidence-based safety measures to prevent adverse events. Some key nursing considerations are preventing urinary tract infections and incontinent episodes, and decreasing the use of devices like indwelling urinary catheters.
According to the Centers for Disease Control and Prevention (CDC), one to three million serious infections occur every year in long-term care facilities. LTC travel nurses play a huge role in preventing, identifying, and treating infections in their patient population. Nurses should know the signs and symptoms of infection stemming from various sources such as wounds, lungs, or the urinary tract. Nurses should also be familiar with different types of infections such as C-Diff, pseudomonas, and staphylococcus while understanding the proper procedures and personal protective equipment (PPE) involved with each. In severe cases, patients may become septic; nurses need to be aware of an abnormal clinical presentation and understand when the patient requires higher-level care.
Comprehensive Assessments and Ensuring Safety
LTC travel nurses have to take vital signs, perform comprehensive assessments, and provide holistic case management as patients may have complex chronic medical needs. Another valuable skill to have is triage, as it is important to recognize when a patient needs higher-level care. 
Nurses will also have to evaluate pressure injuries using risk assessment tools like the Braden Scale and employ prevention strategies such as encouraging mobility and applying protective devices. In the event of a wound, LTC travel nurses should understand how to assess it and perform appropriate wound care. Some nurses can specialize in wound care by obtaining the Wound, Ostomy, and Continence Nursing Certification.
Understand Medical Histories
Some other duties of an LTC travel nurse are to be aware of the medical histories of each patient and to employ evidence-based practices to prevent negative outcomes on health and safety. For example, suppose a patient has a history of atrial fibrillation, takes blood thinners, and is prone to falls. In that case, this patient should be instructed to call for assistance when getting up and should have a fall alarm employed to alert nearby staff. A fall for this patient could be catastrophic, as the risk for excessive bleeding and trauma is high. A "Falling Star" program may be implemented in some LTC facilities to identify high-risk fall patients. For patients with swallowing issues, an appropriate diet suited to their restrictions should be provided to reduce the risk of aspiration and ultimately, pneumonia and sepsis, which can be fatal.
Management of Cognitive Impairments and Behavioral Issues
At times, patients may struggle with cognitive impairments that affect their amygdala and limbic system. Because of this, patients may have side effects such as excessive crying, screaming, increased agitation, and fear. These cognitive impairments may also cause wandering, a lack of awareness of socially acceptable behaviors (i.e. undressing, using racial/ethnic slurs, touching private parts in public), hallucinations, and delusions.
Nurses will need patience and empathy to verbally de-escalate someone before resorting to methods such as antipsychotics and restraints, as these interventions can have negative consequences and are considered a last resort. Reducing the use of psychotropic drugs is supported by CMS and considered a best practice. LTC nurses should be aware of different de-escalation techniques such as:
Environmental changes
Providing a distraction
Identifying basic human needs like hunger/thirst and offering snacks
Speaking to the resident at eye level
Avoiding pointing or raising your voice
Speaking calmly
Seeking to maintain a structured schedule
Doll therapy
Aromatherapy (upon provider/facility approval)
Avoiding arguing with patient
Avoiding making false promises
If using psychotropic medications, travel LTC nurses need to be aware of dose reduction regulations and be competent in performing assessments, evaluations, and proper documentation. LTC nurses must always remember that behaviors are often the result of a disease process. Nurses will also educate families about potential personality and behavioral changes. When it comes to cognitive impairments and behavior management, it's important to focus on promoting safe, patient-centered care for every individual.
Teamwork with Other Healthcare Professionals
Healthcare is a team sport and long-term care travel nursing is no different. As an LTC travel nurse, you will work with a team of healthcare professionals such as MDS (minimum data set) nurses, social workers, pharmacy consultants, respiratory therapists, wound care consultants, hospice nurses, and physicians to provide care. Nurses in particular will have to delegate appropriate tasks to Certified Nursing Assistants (CNAs) and teach ancillary staff when to alert the nurse. 
LTC Travel Nurse Salary Information
At Nomad, long-term care travel nurses can make a weekly salary of $2,088, or $55 per hour. This means for a 13-week contract, you can earn approximately $27,144 in gross pay. Compared to ZipRecruiter, the average weekly salary for a staff LTC nurse is $1,418 a week.
For long-term care nurses, travel nursing can be a great way to expand your potential salary earnings. Factors such as location, shift differential, natural industry fluctuations, additional certifications, and overall years of experience can influence your ability to get paid more. Having experience in different areas of LTC nursing and having the flexibility to float to these different areas can be another way to increase potential salary.
Some certifications that are beneficial for LTC nurses working with geriatric populations include
Some facilities may require certifications like the S.T.A.B.L.E. (Sugar, Temperature, Airway, Blood pressure, Lab work, and Emotional Support) Certification and Pediatric Advanced Life Support (PALS) for LTC travel nurses working with pediatric patients.
*Subject to change. Based on the average salary of Nomad Health LTC travel nurse jobs as of May 17th, 2023.
How to Become an LTC Travel Nurse
There are four major steps to becoming a long-term care travel nurse, which begins with obtaining your nursing degree, a nursing license, adequate experience, and the necessary certifications. Take a look below for a simple guide on how to start your LTC travel nurse journey. 
Step 1: Earn Your Nursing Degree
To start your LTC travel nurse career, obtain a degree in nursing with an accredited Associate of Nursing (ASN) or Bachelor of Nursing (BSN) program. Take note that some facilities prefer nurses with a BSN.
Step 2: Pass the NCLEX (NGN)
The next step is to pass your NCLEX (NGN), or the National Council Licensure Examination; this is required to become a practicing registered nurse. Once you pass this exam, you will be able to obtain a license in your state of choice. There is always the option to obtain different state licenses and upgrade to a multi-state compact license if you qualify.Step 3: Get Hands-On Experience in Long-Term Care Nursing
Step 3: Get Hands-on Experience in Long-Term Care Nursing
Once you have your license to practice, you can apply to work in a long-term care setting, like a nursing home or skilled nursing facility. Another option is to start in an inpatient setting like med-surg and then transfer to an LTC care setting like inpatient rehabilitation, as gaining experience elsewhere may strengthen your clinical practice. With Nomad, many facilities prefer at least 12-24 months of recent LTC experience. Most importantly, you want to feel as comfortable and confident in your nursing skills before you start travel nursing!
Step 4: Obtain Certifications
In the LTC setting, travel nurses are required by CMS to have dementia care education. In some areas like Colorado, there are state-mandated laws that require nurses in the LTC specialty to have yearly education on dementia and memory care. The CARES Dementia Certification is an example of a course that nurses can take to fulfill these requirements and educate themselves on evidence-based practices.
Find your next travel nurse destination

How to Apply for LTC Travel Nurse Jobs

Ready to start your LTC travel nursing adventure? Nomad Health is your gateway to a world of endless possibilities. With our job database, finding and applying for long-term care travel nurse jobs has never been easier.
Join Nomad's travel nurse community

Sign Up
Benefits of Being a Long-Term Care Travel Nurse
If you're a long-term care nurse wondering if travel nursing is worth it, consider the benefits. LTC travel nurses are typically paid more than staff nurses and also enjoy a wider variety of facilities to work nationwide. You can have a high impact on a vulnerable population, while also helping to alleviate the nursing shortage in LTC facilities throughout the country. As a travel nurse, you can also take frequent breaks and vacations without having to worry about paid time off.
10 Resources To Prepare for a Travel LTC Nurse Job
If you're a first-time travel LTC nurse or have been away from the bedside for a while and need a refresher, here are ten resources to boost your confidence and get up to speed on all things long term care nursing: 
Frequently Asked Questions About Traveling LTC Nurses

Yes, travel LTC RNs are in high demand due to the overall staffing shortage of nurses in long-term care and skilled nursing facilities. According to the Administration for Community Living, the number of adults aged 85 and older is expected to double by 2040; as the population lives older and longer with chronic and acute conditions like dementia, stroke, and heart attack, the need for LTC nurses will continue to remain high.


According to Nomad, the average hourly rate for a Long Term Care travel nurse is $55, with $84 an hour as the maximum rate. *Subject to change. Based on the average hourly rate of Nomad Health LTC travel nurse jobs as of May 17th, 2023.


In long-term care travel nursing, Licensed Practical Nurses (LPNs) and Registered Nurses (RNs) have different scopes of practice. LPN nurses play a more supportive role to Registered Nurses because they suggest interventions and assessment findings to the RN, while the RN makes the final clinical decision. LPNs are required to have RN supervision with certain nursing tasks, and will ultimately defer to RNs in terms of strategy and execution of the nursing care plan. RNs are primarily responsible for the patient and are capable of holding administrative and training roles over LPNs.


It's worth being an LTC travel nurse as the pay is much higher and offers a better work/life balance that can be achieved through working temporary contracts.

LTC Travel Nurse Healthcare Resources
Author profile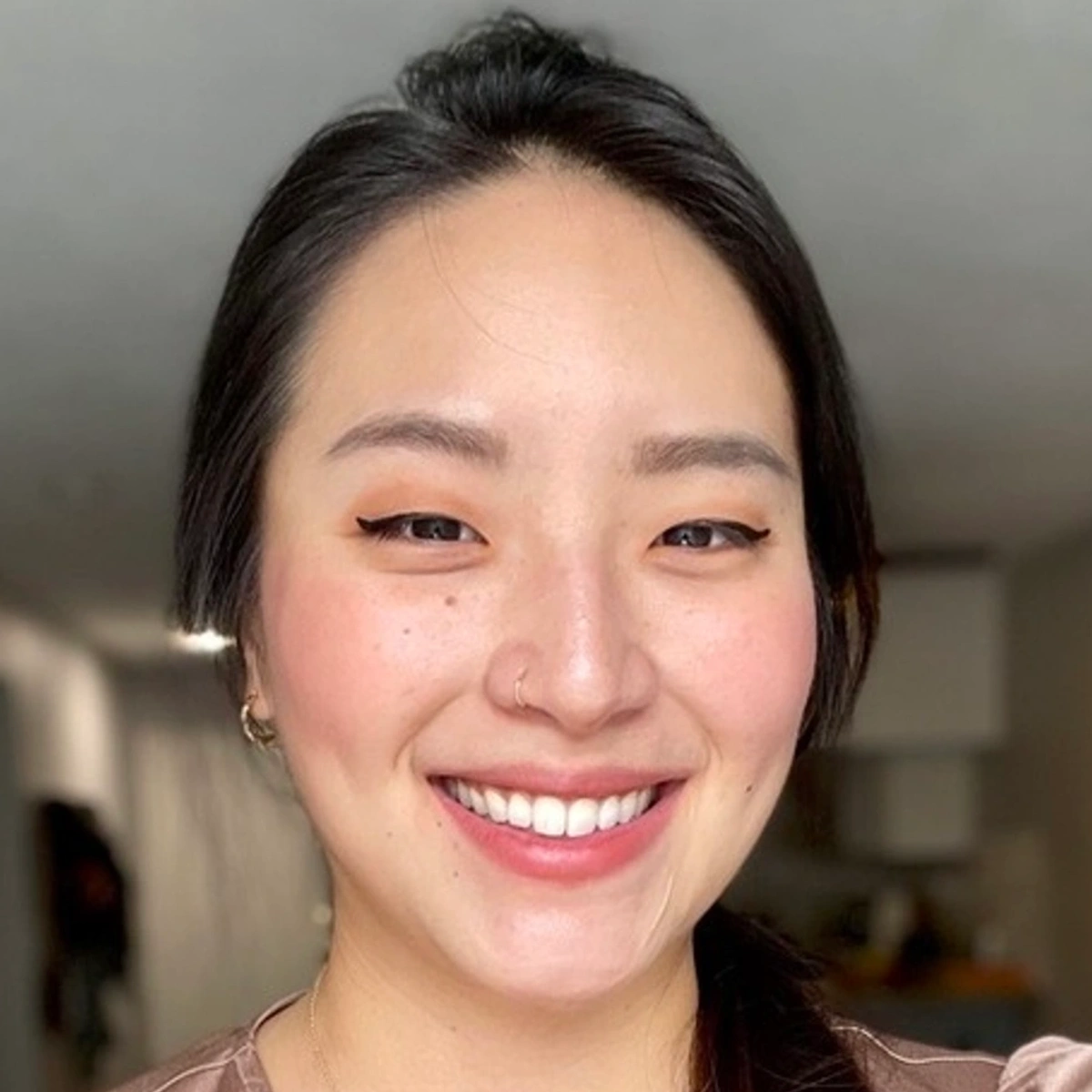 Midge Lee, BSN, RN.

Midge is a registered nurse with eight years of clinical experience in ER, ICU, and home health. After travel nursing for a couple of years, she transitioned from the bedside to writing full-time. She's passionate about diversity and trauma-informed care and will write hospital haikus if you ask nicely. Currently, she's an SEO content writer at Nomad Health.

Published: Jun. 23, 2023
Modified: Sep. 1, 2023