Labor and Delivery Travel Nurse Career Guide

By:

Brooklynn Johnson

Reading time:

5 min
Labor and Delivery Travel Nurse Career Overview
Labor and delivery travel nurses, also called L&D or LDR travel nurses, are powerful advocates for the health of mothers and babies before, during, and after birth. They monitor mom and baby and assist other members of the birthing team to better ensure a safe delivery. These highly skilled travel nurses play a big role in one of the most important days of so many peoples' lives, and it's a very exciting and rewarding nursing specialty. At Nomad Health, we want to give labor and delivery travel nurses the flexibility, pay, and skill-building experiences they're looking for.
Travel nursing is an exciting way to explore new cities, while also gaining valuable skills in diverse settings. We work with travel nurses and travel allied health professionals across the country, and partner with some of the best facilities in the healthcare industry.
Our travel L&D nurses enjoy a robust benefits package, including:
medical insurance
dental and vision insurance
401(k) with employer match after a year
malpractice insurance
We know relocating can be stressful, so we also offer partial travel reimbursement, a stipend for housing and utilities, and state license and certification reimbursement. 
Traveling Labor and Delivery Nurse Job Description
Labor and delivery travel nurses work with moms and newborns, referred to as couplets, from admission to discharge. This dynamic is unique to obstetric travel nursing; the nurse is expected to monitor both the mom and the infant at the same time. Because of this, it's important that these nurses are comfortable working with adult health conditions and pediatric/neonatal patients. The health of mom and baby are their top priorities, and they create an environment for the safest delivery possible. They play a key role in providing client-centered family education, and are important resources of information for moms and families.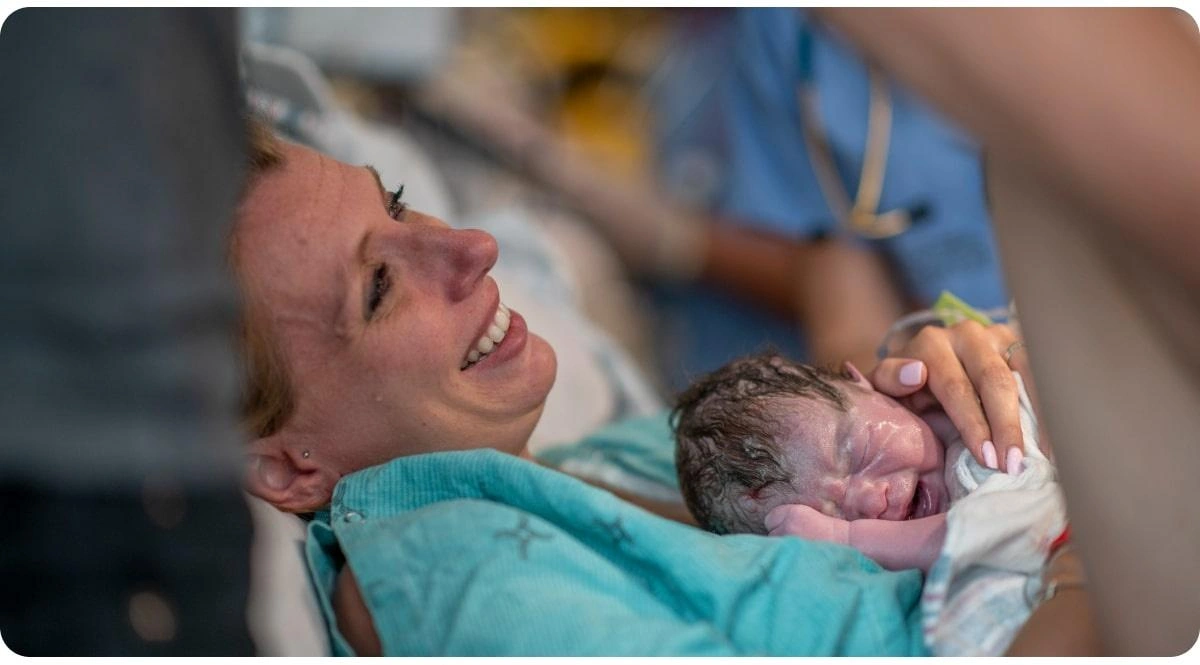 As a labor and delivery travel nurse, the facility you take an assignment at can impact the nature of work. For example, some hospitals have more resources and are better equipped to handle different types of high-risk pregnancy issues. Patients who already know they have high-risk needs may be more drawn to seeking care at those facilities, meaning you'd potentially end up working with more high-risk cases. These cases might be high risk due to pregnancy, or for pre-existing conditions such as diabetes mellitus, lupus, or sickle cell disease. It's also important to consider the patient population's access to prenatal care. According to the Centers for Medicare and Medicaid Services, a lack of access to maternal healthcare can result in a myriad of negative health outcomes, including premature birth, low-birth weight, and even maternal mortality.
Labor and Delivery Travel Nurse Job Requirements
Associates or Bachelor's Degree
Aspiring L&D travel nurses should start by earning either their Associates Degree in Nursing (ADN) or Bachelor's in Science of Nursing (BSN) from an accredited nursing program. While a BSN isn't required, a lot of facilities prefer it and it could increase hireability.
Passing Score on NCLEX and Bedside Experience
After acquiring a degree and passing the NCLEX-RN exam, the newly accredited travel nurse must gain experience at the bedside for about a year before specializing in L&D.
Certifications
Certifications demonstrate dedication and excellence, and could potentially increase hireability and job opportunities. One of the most popular and highly recommended certifications a labor and delivery nurse can get is the Inpatient Obstetric Nursing (RNC-OB) credential from the National Certification Corporation.
According to the NCC website, the RNC-OB is for, "licensed registered nurses in the US and Canada with a minimum of two years of specialty experience in providing care to hospitalized pregnant women during the antepartum, intrapartum, postpartum and newborn periods." Traveling labor and delivery nurses also need:
Basic Life Support (BLS)
Advanced Cardiac Life Support (ACLS)
Neonatal Resuscitation Program (NRP)
Basic Fetal Heart Monitoring
If labor and delivery travel nurses wish to advance in their field, they have the option to become a certified nurse-midwife, or a nurse practitioner in obstetrics and gynecology. Both require additional experience and education, including a Master in Science in Nursing (MSN). It is also possible to become a Certified Childbirth Educator, or a Lactation Consultant.
To stay up to date about labor and delivery best practices for travel nurses, consider these trusted resources:
Popular Labor & Delivery Travel Nurse jobs

Labor and Delivery Travel Nurse Job Responsibilities
According to Top Nursing, an online resource for nursing programs, some of the typical responsibilities of an L&D nurse include the following:
timing contractions
administering medications such as oxytocin and magnesium sulfate
monitoring the vital signs of both the mother and baby
helping induce labor
starting IV lines
providing assistance during cesareans (c-sections)
assessing for possible complications
Additionally, L&D travel nurses must anticipate potential complications and being prepared for them. For example, a known history of high blood pressure (hypertension) or kidney disease increases the risk for preeclampsia. Furthermore, postpartum hemorrhage (PPH) is the leading cause of maternal mortality, and is something LDR travel nurses need to be aware of. It's important to identify risk factors for PPH, closely monitor the couplet, and be familiar with the PPH cart and protocol. Familiarity and comfort with use of rapid infuser equipment is key, as well as mass transfusion procedure.
Admission Assessments
During admission assessments, the nurse determines the estimated time of birth, checks the frequency of fetal movement, and looks for other premonitory signs of labor. If applicable, they also find out about any previous pregnancies and/or birthing experiences, start tracking the frequency, duration, and intensity of contractions, and confirm if they have a supportive adult to accompany them during the delivery. During physical assessment, these travel nurses measure fundal height, check uterine activity (including contraction frequency, duration, and intensity), assess the status of membranes (intact of ruptured), and check the following: cervical dilatation, degree of effacement, fetal status, and pain level.
Bedside Shift Report Hand-Off
Within labor and delivery travel nursing, there's extra emphasis on the bedside shift report hand-off. This hand-off can increase patient safety and decrease the risk for communication-related medical errors. L&D is unique in that there are two reports, first on mom then on baby. This practice gives space for increased safety and proper transfer of care, including the patient and environment (infusing high-risk medications, eg. Pitocin). It also increases the patient's confidence in team communication, while putting them at ease about the next caregiver. The transfer and coordination of care at the bedside is also recommended when the couplet (mom and baby) is ready to transfer from LDR to M/B.
Obstetic Emergencies
According to Nursing Management in Labor and Birth (Lippincott), the nurse's role in childbirth is to ensure a safe environment for the mother and the birth of her newborn. It is critical to provide anticipatory guidance and explain each procedure (fetal monitoring, intravenous therapy, medications given, and expected reactions) and what will happen next.Some common obstetric emergencies that L&D travel nurses see include:
placenta previa
abruptio placenta
eclampsia
ruptured uterus
shoulder dystocia
prolapsed cord
postpartum hemorrhage
It is also important to anticipate timely management of mothers who are Group Beta Strep (GBS) positive; nurses administer antibiotics to women who are at increased risk of having a baby who will develop GBS disease. The antibiotics help protect babies from infection, but only if given during labor. Antibiotics cannot be given before labor begins because the bacteria can grow back quickly.
Newborn Fall Prevention
Another thing that LDR travel nurses need to be aware of is preventing newborn falls. According to the Joint Commission, heightened risk of fall or drop happens during cesarean birth, use of medication within four hours, second or third postpartum night, or during breastfeeding. TJC also lists out some ways to intervene, including providing family education, coaching caregivers to keep bed side rails up when feeding, identifying if mothers or other caregivers are starting to get drowsy, and assist in placing the newborn in their bassinet, among other preventative measures.
Fetal Heart Monitoring
A large part of an L&D travel nurse's role includes fetal heart rate monitoring. According to the American College of Obstetricians and Gynecologists, "fetal heart rate monitoring is the process of checking the condition of your fetus during labor and delivery by monitoring your fetus's heart rate with special equipment." There are two types of fetal monitoring: auscultation and electrical monitoring. The former refers to listening to heart rate using a stethoscope, and the latter includes the use of electrodes. The nurses are interpreting baseline rates, variability, and the presence or absence of accelerations and decelerations. This information is collected and used to prepare and better respond to any potential risks.
L&D travel nurses must be adept at recognizing Category I, II, and III tracings, and know how to respond. For example, a Category I is a normal tracing, which has a baseline 110 to 160 beats per minute with moderate variability and no late or variable decelerations. Accelerations and early decelerations may be present or absent. According to ACOG, monitoring and management of a category I tracing includes intermittent or continuous fetal monitoring based on clinical status and underlying risk factors.
Category III, on the other hand, includes absent baseline variability, recurrent late decelerations, recurrent variable decelerations, or bradycardia, and might indicate an increased risk of fetal acidemia. The L&D nurse must immediately escalate this finding to the provider and interdisciplinary team in order to prepare for delivery. They should also reposition the mother to the left or right lateral and anticipate the need for an intravenous fluid bolus. Other potential interventions for this tracing include scalp stimulation to provoke fetal heart rate acceleration, which is a sign that the fetus is not acidotic. According to ACOG, if there is no improvement after conservative measures and scalp stimulation does not result in acceleration, delivery is advisable.
Newborn Identification Systems
It's the responsibility of the nurse to be vigilant while working to give high-quality, safe care. According to a 2018 report published by the Joint Commission,"Newborns are at high risk of misidentification due to their inability to speak and lack of distinguishable features. Furthermore, they point out that "misidentification has also resulted in feeding a mother's expressed breastmilk to the wrong newborn, which poses a risk of passing bodily fluids and potential pathogens to the baby." There are interventions that L&D nurses can use, including distinct naming systems, standardized practices for identification banding, and pre-established staff communication tools.
Patient Education
L&D travel nurses spend a lot of time educating their patients, often new mothers, and their families about what to expect both at the hospital and at home. Some specific examples of patient education are general postpartum perineal care, post-episiotomy care, post-C-section wound care, and signs of postpartum depression, or PPD. Sometimes this looks like answering a family's set of questions about how to care for mom and the baby after being discharged, and sometimes it looks like offering nervous families a little confidence boost. The bond LDR nurses make with their patients is critical; it's important to build rapport and create a trusting relationship. 
Giving birth is an incredibly physical and emotional experience. Strong L&D nurses are able to navigate the complexities of complications and last minute changes while maintaining clear-but-compassionate communication with mom and the family. 
L&D Travel Nurse Salary Information
The average labor and delivery travel nurse at Nomad Health makes just under $2,600 a week, with a median pay rate of about $65 an hour.* With the average travel contract being 13-weeks, that's about $33,800 per placement. There are a lot of factors that could impact an individual's salary, including experience, certifications, and industry demand.
For travel labor and delivery nurses, it's important to note that different cities also have different pay scales. Today, the top three states with the highest number of travel L&D job openings at Nomad Health are Indiana, New York, and Texas.*
*Average pay of Nomad Health labor and delivery travel nurse job postings as of March 14, 2023.
Highest-Paying Labor and Delivery Travel RN Jobs
Within the industry of labor and delivery travel nursing, there's a wide range of pay. On the upper end of earnings, a labor and delivery nurse at Nomad Health makes about $4,000 a week, or $103 an hour.* So for a 13-week assignment, that's about $52,000.
If you're looking to increase your offer amounts, there are a few things you can do, including:
gain experience in high-risk L&D settings or with high-risk patient populations
pursue continued education courses within the field of obstetrics
become well rounded in antepartum, intra, and postpartum care
pursue advanced certifications in specialized areas, like advanced fetal monitoring
L&D travel nurses also have the flexibility to travel to a state that offers higher RN pay.
At Nomad Health, we know that salary is an influencing factor when it comes to choosing the right job. That's why we've made it easy to search and sort labor and delivery travel job postings by pay rate.
Our travel nurse jobs can also be sorted by location, specialty, and more, so you can find what you're looking for. Because we are a recruiter-less organization, we're able to save on costs and pass those savings to you by way of full benefit packages and higher compensation.
*Average pay of Nomad Health labor and delivery travel nurse job postings as of March 14, 2023.
Join Nomad's travel nurse community

Sign Up
Benefits of Being a Labor and Delivery Travel Nurse
Low Nurse-to-Patient Ratio
Labor and delivery nurses often have a low nurse-to-patient ratio, especially when compared to other specializations. Due to this, they often get to spend more time with their patients and their families during a monumental life event, and form valuable bonds while gaining experience. That being said, the ratio can vary depending on high risk nature or risk for complications.
In June 2022, the Association of Women's Health, Obstetric, and Neonatal Nurses published updated standards for nurse staffing covering the continuum of inpatient childbirth and neonatal care. Since the first edition (published in 2010), there has been a substantial amount of evidence linking nurse staffing to patient outcomes.
Safe, high-quality care requires the appropriate number of nurses to provide comprehensive assessment, nursing interventions as needed, emotional and physical support, and discharge education.
Mentally Rewarding
L&D travel nursing is also exciting! Delivery can happen at any time of day or night, and can widely vary in how long it takes. Each birthing story and circumstance is different. They have the opportunity to work in hospitals, birthing centers, or even in homes, for at-home births. Labor and delivery nurses get to witness their patients become parents, and the impact they have on their lives is lasting. It's a very rewarding nursing specialty, and has a lot of room for career advancement.
Ability to Travel
As a labor and delivery travel nurse, you'll get invaluable experience working in new and diverse healthcare facilities. Labor and delivery travel nurses are able to gain a broader range of skills and experience which could lend itself to a higher salary down the road. It can also be incredibly fulfilling to be in charge of your career by exclusively doing travel L&D assignments.
Job Outlook for Labor and Delivery Travel Nurses
According to the Centers for Disease Control and Prevention (CDC), there were approximately 3,664,292 births recorded in the United States in 2021. Of those, 10.49% were born preterm, meaning they potentially needed additional care.
The Agency for Healthcare Quality and Research claims that liveborn (newborn infant) is one of the top reasons people are admitted to the hospital. Furthermore, the U.S. Bureau of Labor Statistics states that the field of registered nursing is projected to grow 6% between 2021 and 2031. All that being said, it's safe to say that the demand for labor and delivery travel nursing will always be there.
How to Apply for L&D Travel Nurse Jobs

Ready to start your L&D travel nursing adventure? Nomad Health is your gateway to a world of endless possibilities. With our job database, finding and applying for labor and delivery travel nurse jobs has never been easier.
Frequently Asked Questions About Labor and Delivery Travel Nurses

Travel labor and delivery nurses work with expectant mothers before, during, and after labor. They provide assistance to the rest of the delivery team, such as OB-GYNs or other physicians, monitor the vital signs of mom and the baby, and help educate and comfort their patients and their families.


According to the U.S. Bureau of Labor Statistics, California both employs the most number of labor and delivery travel nurses and has the highest pay on average.


The average labor and delivery travel nurse at Nomad Health makes just under $2,600 a week, with a median pay rate of about $65 an hour.

Average pay of Nomad Health labor and delivery travel nurse job postings as of March 14, 2023.
Find your next travel nurse destination

Author profile

Brooklynn Johnson

Brooklynn Johnson is a healthcare writer & editor for Nomad Health. Brooklyn graduated from Western Washington University in 2015 with a BA in Digital Journalism. Since then, she's written for a number of award-winning publications, and loves working on human-interest pieces. She's been working with Nomad Health since 2022.

Published: Apr. 21, 2023
Modified: Jul. 3, 2023