ICU Travel Nurse Career Guide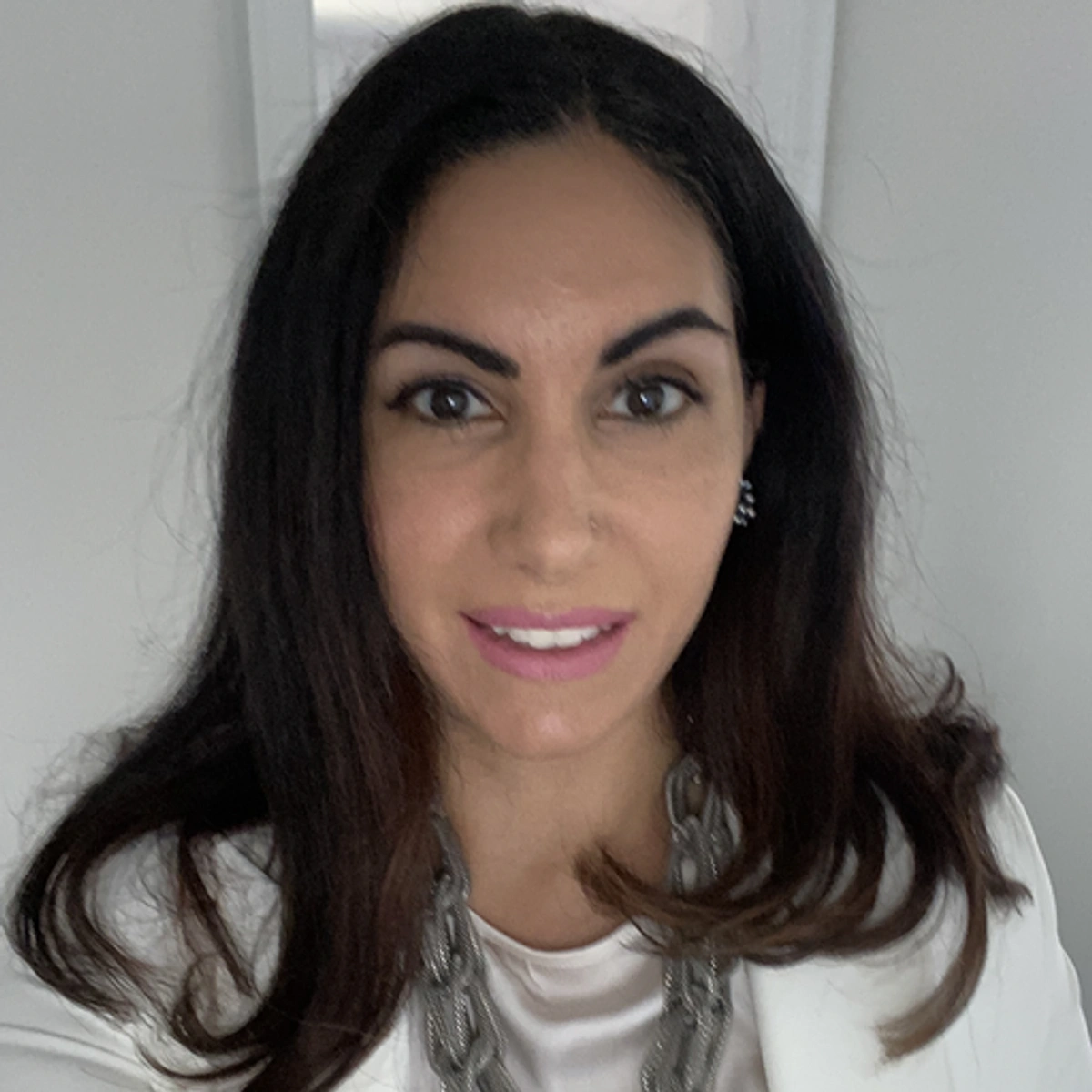 By:

Hourig Karalian

Reading time:

5 min
ICU Travel Nurse Career Guide
Often described as intense but rewarding, the role of an intensive care unit (ICU) travel nurse involves caring for most unstable patients with the highest acuity in a hospital. ICU travel nurses are known to be calm, detail-oriented, and capable of working under high pressure. These accomplished nurses are experts in managing complex disease processes and providing compassionate emotional support to families during the toughest of times.
If you're just getting started as a travel ICU nurse or are coming back after a hiatus, there are some key considerations.
ICU Travel RN Jobs With Nomad Health
At Nomad, we're excited to support ICU travel nurses in finding the highest paying jobs throughout the country. We understand that while travel nursing is fun, it can be stressful, so we support our Nomad nurses with a fully loaded benefits package that includes medical insurance, dental insurance, vision insurance, and malpractice insurance. We care about your financial wellness, so we provide access day one to a 401(k) from with employer matching after a year. 
We also know little expenses can add up quickly, so we've got you covered with additional perks like travel reimbursement up to $1,000, a housing and utilities stipend, licensing and certification reimbursement, and scrubs reimbursement. We want to make things feel easy and secure so you can focus on doing your best work while enjoying the traveling nursing experience.
Find your next travel nurse destination

ICU Travel Nurse Job Description
Intensive care unit travel nurses provide continuous care to critically ill patients that require life-sustaining interventions. These patients may come from the emergency room temporarily stabilized or from other units of the hospital after decompensating. ICU nurses monitor their patients as frequently as every five to fifteen minutes and manage advanced medical equipment such as ventilators that assist in breathing, arterial lines to monitor active blood pressure, and central lines for the administration of various medications. They are expected to anticipate the needs of the patient and notice small changes in the patient's condition. Due to their strong attention to detail, ICU travel nurses react quickly to intervene and notify the right team members.
Other duties of an ICU travel nurse include comprehensive head-to-toe assessments, analyzing lab values and trends such as arterial blood gases, interpreting electrocardiograms (ECG) and knowing their treatments, monitoring strict intake and output and understanding the significance of patterns within the data, administering critical medications, transporting ventilated and hemodynamically unstable patients for advanced imaging, and providing education to the patients. Aside from direct patient care, they give culturally-sensitive emotional support and therapeutic communication to family members.
Compared to staff nursing jobs, ICU travel nursing roles are more flexible in ways like being able to choose between day and night shift, work eight or 12 hour shifts depending on the facility, take contracts four to 13 weeks at a time, take planned breaks between contracts, explore different hospital systems, and travel to different states during the year.
ICU Travel Nurse Job Requirements 
Like any job, ICU travel nursing requires a mixture of hard and soft skills. Part of the job involves knowing how to operate and troubleshoot special medical equipment. Take a look at some of the most common devices seen in the ICU.
Ventilators
According to the National Institutes of Health (NIH), ventilators are "breathing machines" designed to help blow air with increased oxygen in and out of the lungs. As an ICU travel nurse, many of your patients may be dependent on a ventilator. You will be collaborating with respiratory therapists to manage these devices. It's best if you are familiar with the basic settings and alarms of a ventilator. 
Central Lines and Arterial Lines
Central venous catheters, or central lines, are catheters that are typically placed in one of three large vessels: the internal jugular vein (IJ), the subclavian vein (SCL), or the femoral vein. These catheters are necessary for when patients lack other adequate IV access, are receiving medications that are caustic on smaller veins, require vasopressor medication support, or require secure access for mass transfusion of blood products. ICU travel nurses are expected to know how to use these devices with clean technique, change dressings with sterile technique, and maintain patency in a safe manner.
Arterial lines, or art lines, are catheters that are placed within an artery, usually within the radial or femoral artery. These catheters provide more accurate, continuous blood pressure readings and access to arterial blood samples. ICU travel nurses are expected to know how to set up this catheter with a transducer, troubleshoot waveform patterns on the monitor, pull arterial blood samples, and maintain patency of the catheter in a safe manner.
Gaestric Tubes
All patients dependent on a ventilator will require a dobhoff tube, nasogastric (NG) tube, and/or an oral gastric tube (OG). A Dobhoff tube is a thin, flexible tube that is placed through a nasal passage and into the stomach, and sometimes into the small intestine. This tube is more comfortable for patients and is typically used to administer medications and enteral nutrition into the patient. 
Both nasogastric (NG) tubes and oral gastric (OG) tubes are thicker tubes fed either through the nares or the mouth. These lead to the stomach and serve to either feed medication or decompress the contents of the stomach. ICU travel nurses are expected to know how to confirm the placement of these devices, flush them, push medications through safely, and keep them patent.
High Risk/High Alert Medications
Medication management is a huge part of nursing and especially ICU travel nursing. Patients in the ICU are often hemodynamically unstable, meaning their vital sign measurements indicate organ dysfunction or failure. Patients like these will receive multiple vasoactive drips through a central line such as neosynephrine, norepinephrine, epinephrine, and amiodarone. Patients dependent on ventilators also receive continuous sedation and analgesics so they can stay comfortable and safe. Some of the most common sedative and analgesic medications administered by travel ICU nurses are propofol, fentanyl, dexmedetomidine, and versed. In some cases paralytic medication drips, like cisatracurium, are given.
Complex ICU Travel Nursing Skills
Other than managing medical devices, some other skills required of travel ICU nurses are frequent charting, sterile technique, extensive wound management (eg. Steven Johnson syndrome), pressure injury management, proning patients for ARDS (Acute Respiratory Distress Syndrome), cardiopulmonary resuscitation (CPR), Advanced Cardiac Life Support (ACLS), and indwelling urinary catheter management.
The Art of Nursing
Some of the soft skills required of a travel ICU nurse are maintaining a calm demeanor in stressful situations, teamwork, fast and effective decision making, resource management, and time management. Other important competencies are critical thinking, prioritization, delegation, flexibility, strong clinical judgment, compassionate care, and assisting patients and families with end-of-life care.
Most hospitals will require nurses to have a minimum of 12 months of recent ICU experience. In some instances, ICU travel nurses might provide care to various patient populations within the same unit. For example, there may be a single ICU in the hospital that houses patients from different specialty units like MICU, SICU, NSICU, and CVICU. This is largely facility-dependent as smaller community hospitals or critical access hospitals don't have the volume of patients to fill multiple ICUs. 
As you take on ICU travel assignments, hospital systems and teams may change, but the core principles of ICU nursing remain the same. Brush up on ACLS and PALS protocols, common pathophysiology, and ventilator and drip management; also, consider enriching your nursing education by familiarizing yourself with evidence-based protocols, reading peer-reviewed articles, and participating in professional nursing webinars and conferences. With these practices, you'll be able to show up confidently to any ICU travel assignment.
Popular ICU Travel Nurse jobs

Types of ICU Travel Nurse Jobs
With Nomad, we have seven of the most popular specialities available within ICU travel nursing. Some of the most common ICU travel nurse jobs include Medical ICU (MICU), Pediatric ICU (PICU), Neonatal ICU (NICU), Surgical ICU (SICU), Cardiovascular ICU (CVICU), Burn ICU (BICU), and Neurosurgical ICU. Take a look at the differences between some of these specialties:
Medical ICU (MICU)
Medical intensive care (MICU) travel nurses are trained to care primarily for critically ill adult patients that require close monitoring. According to the American Association of Critical Care Nurses (AACN), patients in the MICU may have conditions such as sepsis, shock, respiratory failure, gastrointestinal bleeds, esophageal varices, substance abuse overdose or withdrawl, suicide attempt, and multiple organ dysfunction syndrome (MODS). These patients may require advanced life saving measures such as ventilators, arterial lines, central lines, CRRT (Continuous Renal Replacement Therapy), ECMO (Extracorporeal membrane oxygenation), and vasoactive and sedative drips.
MICU travel nurses are capable of noticing subtle changes in their patients' condition and responding to life threatening events like cardiac arrest. These nurses have comprehensive physical assessments skills, including recognition of adventitious lung sounds such as stridor and abnormal heart sounds, such as S3, S4, and gallops. Other skills include drawing arterial blood gases and interpreting the findings. MICU travel nurses will also be familiar with preparing for invasive bedside procedures such as intubation, chest tube placement, central venous catheter insertion, and thoracentesis. 
As a MICU travel nurse, the typical nurse-to-patient ratio is 1:2. Depending on your level of experience and skill set, you may be given assignments with a 1:1 nurse-to-patient ratio. In order to qualify for an assignment, you are expected to have Basic Life Support (BLS), Advanced Life Support (ACLS), and at least 12 months of MICU nursing experience in the last two years.
Pediatric ICU (PICU)
Similar to other intensive care units, the pediatric intensive care unit (PICU) houses critically ill children that require a high degree of monitoring and medical intervention. According to the American Nurses Association, patients can range from newborn age to children and young adults of 21 years. A PICU travel nurse may care for adolescents with diverse conditions such as brain tumors, cancer, acute respiratory failure, genetic and chromosomal abnormalities (ex. trisomy 21), sepsis and infections (ex. Bacterial meningitis, viral pneumonia), near drowning, or intoxication and overdose.
Some of the primary responsibilities of a PICU travel nurse involve caring for ventilator dependent and hemodynamically unstable children that require multiple critical drips for survival. PICU nurses have to balance being strong advocates for their patients while also showing compassion and supporting the parents of severely ill children. Similar to other ICU nurses, PICU travel nurses are expected to notice subtle changes in the status of their patients and respond to emergency situations requiring cardiopulmonary resuscitation (CPR).
As a PICU travel nurse, the typical nurse-to-patient ratio is 1:2 or 1:1 for sicker patients. In order to qualify for an assignment, a PICU travel nurse will need Basic Life Support (BLS), Pediatric Advanced Life Support (PALS), and possibly the Neonatal Resuscitation Program (NRP) certification, along with 12-24 months of PICU RN experience in the last two years. 
Neonatal ICU (NICU)
Neonatal intensive care unit (NICU) travel nurses tend to the tiniest and most vulnerable of patients. As the name suggests, a NICU nurse will care exclusively for newborns. According to the American Academy of Pediatrics, there are four levels of care designated to neonatal intensive care units:
Level I: These facilities "provide a basic level of care to neonates who are low risk." This typically means healthy, full term babies and premature babies who can be stabilized and transferred to a higher level facility.

Level II: These facilities "are reserved for stable or moderately ill newborn infants who are born at or equal to 32 weeks' gestation." These babies may be recovering from complications of a premature birth.

Level III: These facilities care for "infants who are born at under 32 weeks' gestation, weigh under 1500 g at birth, or have medical or surgical conditions, regardless of gestational age." NICU nurses will be expected to utilize advanced life support equipment for a prolonged period.

Level IV: These facilities include "the capabilities of level III with additional capabilities and considerable experience in the care of the most complex and critically ill newborn infants." This includes the capacity for infant surgery.
NICU travel nurses approach their care with a strong, family-centered approach. Their patients are unable to advocate for themselves as they are incapable of speaking or communicating verbally due to their nascent age, and may be dependent fully on life support measures such as ventilators and feeding tubes. Parents are often understandably stressed and benefit greatly from a clear, kind, and trauma-informed communication style from NICU travel nurses. NICU travel nurses are expected to anticipate the needs of their patients and respond quickly to any medical emergencies that may arise.
NICU travel nurses may be staffed based on their current level of experience at a facility of similar or higher level of care. A successful NICU travel nurse is expected to have 12-36 months of NICU experience and hold certifications in Basic Life Support (BLS), Advanced Life Support (ACLS), Pediatric Advanced Life Support (PALS), and the Neonatal Resuscitation Program (NRP) certification.
Surgical ICU (SICU)
The surgical intensive care unit (SICU) sees critically ill patients that have a "vast range of surgical injuries and illnesses coming from nearly all departments in the hospital," according to West Virginia University Hospital. As a SICU travel nurse, you may be caring for hemodynamically unstable patients recovering from general, thoracic, trauma, vascular, orthopedic, gynecologic and obstetric surgeries. Some of the common conditions seen in SICU patients are abdominal resection, gunshot wounds (GSW), liver or peritoneal resection, complex burns, multiple traumas (motor vehicle accident), cancer, or abdominal aortic aneurysm.
Similar to MICU travel nurses, SICU travel nurses perform comprehensive physical assessments, draw arterial blood gases and interpret the findings, and prepare for invasive bedside procedures such as intubation, chest tube placement, central venous catheter insertion, and thoracentesis. SICU travel nurses have a sixth sense for when things seem "off" about their patient, and use their clinical judgment and critical thinking skills to troubleshoot any emerging problems with their patients' condition. The management of critical medication drips and responding to life-threatening emergencies like cardiac arrest are also expected.
SICU travel nurses are regularly exposed to a vast array of surgically managed conditions and are expected to be familiar with pre and post operative nursing care. The nurse-to-patient ratio may be 2:1 or 1:1. SICU travel nurses will also need Basic Life Support (BLS), Advanced Life Support (ACLS), and at least 12 months of SICU nursing experience in the last two years.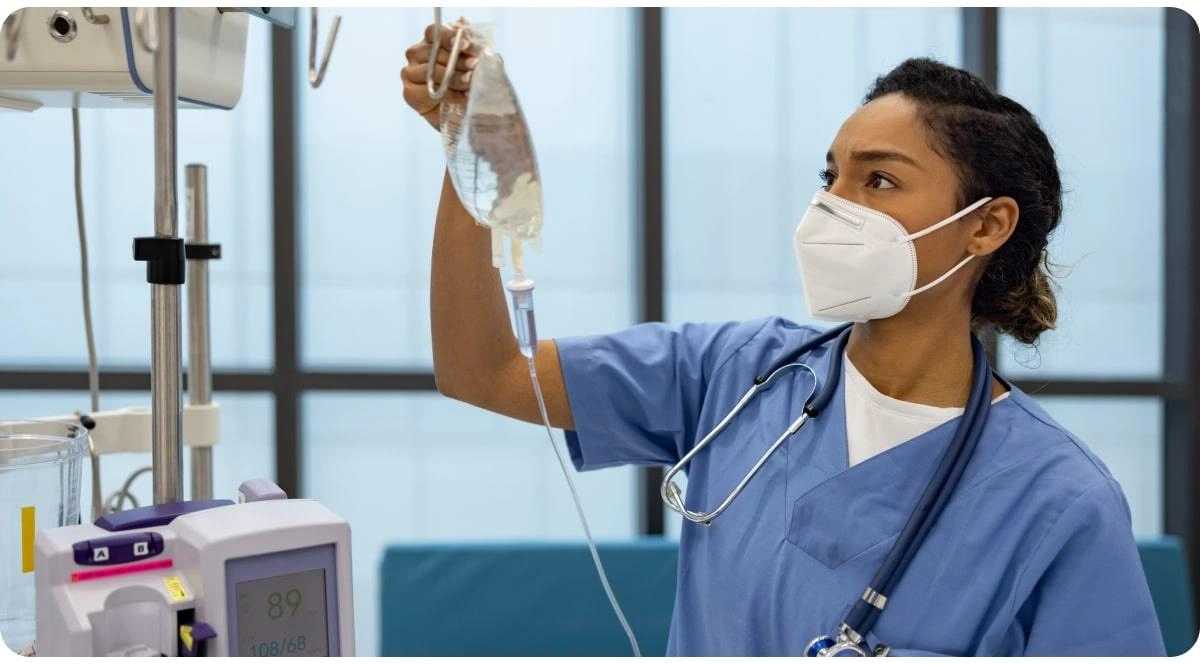 ICU Travel Nurse Salary Information
An ICU travel nurse with Nomad makes an average of $2500 a week, or $64 an hour. That means for a typical 13-week assignment, the gross pay could be $33,000 or more.* 
There are multiple ways to increase your salary as an ICU travel nurse. Obtaining the CCRN, a specialty certification administered by the American Association of Critical-Care Nurses (AACN), can increase your value and demonstrate your level of expertise to hospitals. Gaining more overall nursing experience, having a Bachelor of Science in Nursing (BSN), learning new skills, and cross training into a different ICU specialty can also increase your base pay. For example, a Nomad NICU travel nurse averages $3300 a week compared to $2600 for a CVICU nurse.* Hourly rates will also naturally fluctuate between different locations and times of the year.
*Average pay of Nomad Health ICU travel nurse job postings as of February 28, 2023.
Highest-Paying ICU Travel Nurse Jobs
On the high end, an ICU travel nurse with Nomad can make up to $4,800 a week, or $92 per hour.* For a 13 week contract, this adds up to about $62,400 of gross pay. When searching for jobs with Nomad, you can easily filter by salary in order to identify the highest paying ICU jobs. 
In terms of specialty, the three highest paying ICU travel nurse jobs with Nomad are PICU, CVICU, and NICU. Currently, the three highest paying states on Nomad's ICU job listings are Illinois, New York, and Massachusetts*
*Highest listed pay of Nomad Health ICU travel nurse job postings as of February 28, 2023. 
How To Become an ICU Travel Nurse
Earn Your Nursing Degree
The first step to becoming an ICU travel nurse is getting your Bachelor of Science in Nursing (BSN) from an accredited four year university, or an Associate Degree in Nursing (ADN) from an accredited two year university.
Pass the NCLEX
In order to become licensed as a registered nurse in any state, you will have to then pass the NCLEX-RN, which is a standardized test given to every potential nurse candidate. Once you have your initial nursing license, you can always apply for licenses in other states later or apply for a multistate license if you qualify.
Find an ICU Job
Ideally, find a reputable ICU nurse residency program to join as a new nurse. Some benefits of a nurse residency are that they provide comprehensive training and education through a didactic and simulated setting. Joining a nursing fellowship is also a great option for more experienced nurses looking to transition to an ICU. If you're unable to start your nursing career in the ICU, there are other options. You can always start in a different inpatient setting like the emergency room (ER), Step-down, or Med-surg before transferring to the ICU. You want to have at least one to two years of solid nursing experience under your belt and more importantly, feel comfortable with managing your patients' nursing care confidently and independently.
Get Certified
Although it's not necessary, obtaining additional certifications with the American Association of Critical-Care Nurses (AACN) can boost your resume and knowledge base. This can make you a more attractive travel nursing candidate to future hospitals. Passing an exam like the CCRN shows employers, patients, and other nurses that you have demonstrated a commitment to excellence in critical care and patient safety.
How to Apply for ICU Travel Nurse Jobs

Ready to start your ICU travel nursing adventure? Nomad Health is your gateway to a world of endless possibilities. With our job database, finding and applying for ICU travel nurse jobs has never been easier.
ICU Travel Nursing FAQs

Yes, the demand for travel ICU nurses is high. With an aging population living longer than ever, chronic illnesses on the rise, and the recent COVID-19 pandemic, the demand for travel ICU nurses continues to have a healthy outlook. According to the U.S Bureau of Labor Statistics, close to 200,000 nursing jobs are expected to be added from 2021 to 2031.


According to Nomad, the highest pay for an ICU travel nurse is $4500 a week. Compared to Zip Recruiter, the average travel ICU pay is approximately $2,985 a week. Nomad is able to pay more than other agencies because we don't pay recruiters. Instead, we divert that money to healthcare workers.


At a minimum, it will take one year of full-time work in an intensive care unit to become a travel ICU nurse. Some facilities prefer two years of recent full-time ICU experience.

ICU Travel Nurse Healthcare Sources
Join Nomad's travel nurse community

Sign Up
Author profile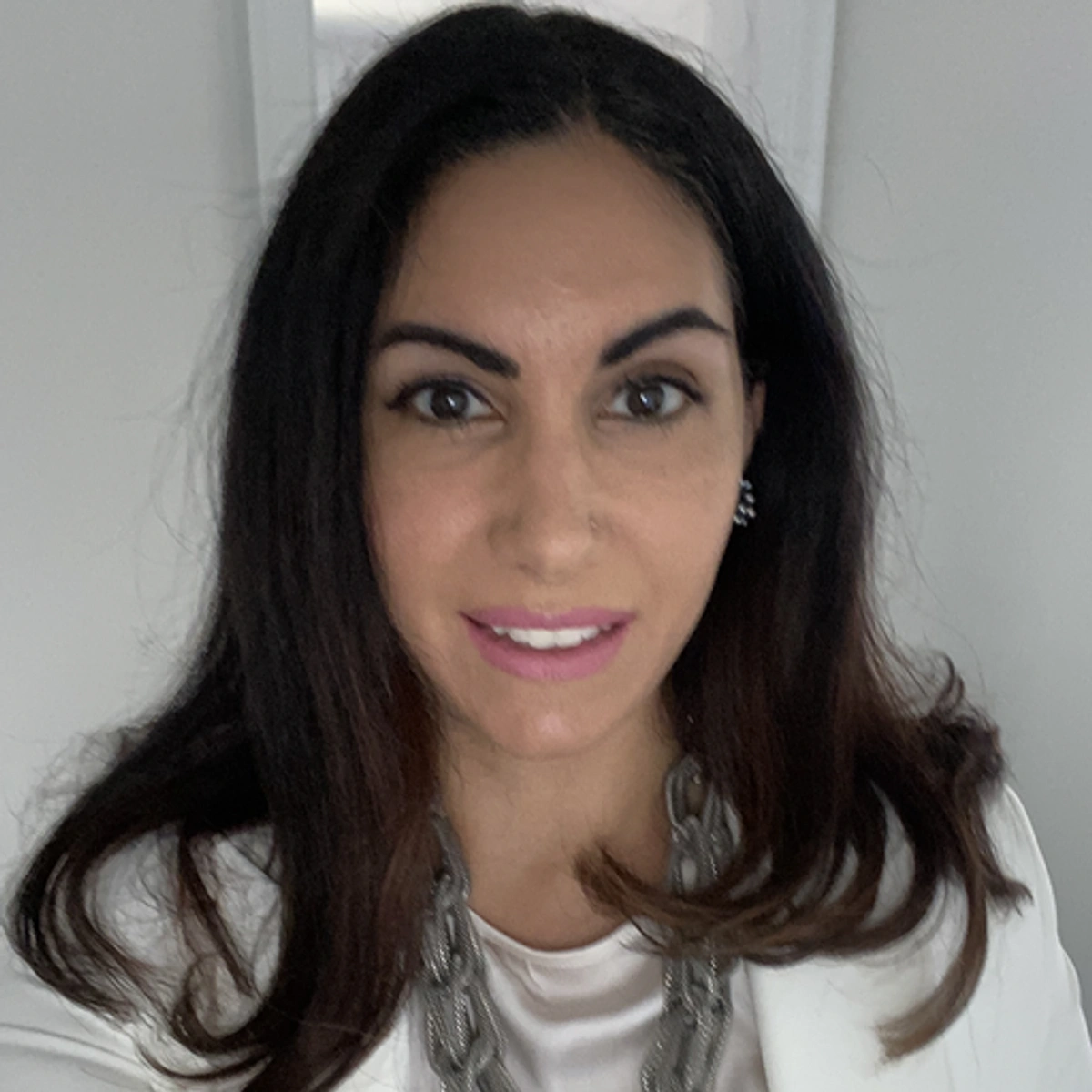 Hourig Karalian

Hourig is a nurse with 20+ years of clinical, education, and leadership experience. She has served as a clinical instructor at several hospitals, training hundreds of nurses in an evidence-based approach to health care. Her experience includes managing upwards of 80 staff while a Clinical Nurse Manager at Mount Sinai Hospital, serving as Adjunct Clinical Faculty at New York University teaching clinical for undergraduate nursing students, and spearheaded the Nurse Residency program at Hackensack Meridian Health, Pascack Valley Medical Center teaching numerous cohorts of nurses at the bedside and classroom settings, transitioning them to their first acute care positions. Her clinical experience includes MICU and Step down at Mount Sinai Hospital, Med-Surg HIV at Yale New Haven Hospital, among other roles. She has received numerous awards and recognitions, including recognizing impact as a Nurse Educator (NJ National League for Nursing), published a book chapter, and presented at conferences. She received her Bachelors from Villanova University and Masters from New York University. Currently, she is a Senior Manager on the Nomad Health Clinical Excellence team where she heads all clinical education.

Published: Mar. 14, 2023
Modified: Jul. 3, 2023