Travel ultrasound tech career guide
Travel ultrasound tech jobs with Nomad Health
Ultrasound technology is an incredibly powerful science that's used in diagnosing and treating a wide variety of medical conditions. The ability to get a closer look inside the body without high-risk or invasive procedures makes identifying and monitoring health issues easier, and safer for the patient. Traveling ultrasound technicians, or medical sonographers, have the opportunity to specialize in a wide range of applications, making it a versatile healthcare career. 
At Nomad Health, we're excited to help travel ultrasound technicians find roles that fit their passions. Allied health professionals who choose to pursue travel ultrasound tech jobs gain access to different types of facilities, roles, and experiences, all of which can contribute to career growth and higher pay. By using our website or easy-to-use app, ultrasound techs can quickly apply for assignments in facilities all over the country.
What's it like to travel as an ultrasound tech with Nomad?
As a traveling ultrasound technician with Nomad, you'd be covered with medical, dental, and vision insurance, as well as malpractice insurance. You'd have a 401(k) available to you, with employer matching after a year. We know there can be added stress when it comes to traveling, which is why we offer partial travel reimbursement, a stipend for housing and utilities, and state license and certification reimbursement, if needed.
We are recruiter-less, but we are not people-less. Once you submit a travel job application with us and it gets accepted by a facility, you're assigned a Nomad Navigator. This person will help you with anything from credentialing questions to on-the-job hiccups or issues. We also have our Clinical Excellence team, a group of experienced clinicians with in-depth healthcare knowledge on standby to help with role-specific issues. Our goal is to give you the tools to succeed, and get what you want out of each travel assignment.
Travel ultrasound tech salary information
At Nomad Health, the average travel ultrasound technician makes about $2,600 a week, or $66 an hour.* There are a lot of factors that can impact take-home pay, including industry demand, individual facility rates, personal experience, and certifications. On the upper end, a traveling ultrasound technician at Nomad can make up to $4,600 a week, or $115 an hour.*
We know that salary is an important factor when it comes to choosing an ultrasound tech travel assignment, which is why we've made it easy to search for jobs by pay rate. By using our app or website, you can filter jobs by a number of factors, including salary, location, and certifications. Once you register and build a profile with us, we'll send you newly posted jobs that match what you're looking for, so you never miss a chance to apply for your perfect travel position.
*Subject to change. Based on Nomad Health job data taken on March 31, 2023.
Browse our highest-paying ultrasound tech travel jobs

See jobs
Travel ultrasound tech job description
Ultrasound travel technicians utilize ultrasound technology, or sonography, to get a better look at internal organs, joints, blood vessels, etc. The American Registry for Diagnostic Medical Sonography, or ARDMS, defines sonography as, "a painless non-invasive procedure that uses high-frequency sound waves to produce visual images of organs, tissues, or blood flow inside the body." They collect the images, called sonograms, using ultrasound equipment and deliver it to the physician, who uses it to better diagnose the patient.
According to the National Institute of Biomedical Imaging and Bioengineering, or NIBIB, there are two types of medical ultrasounds: diagnostic and therapeutic. Diagnostic is used to gather imaging from within the body using transducers. Therapeutic is used to actually interact with tissue. This could be done to break up blood clots, move tissue, heat tissue, etc.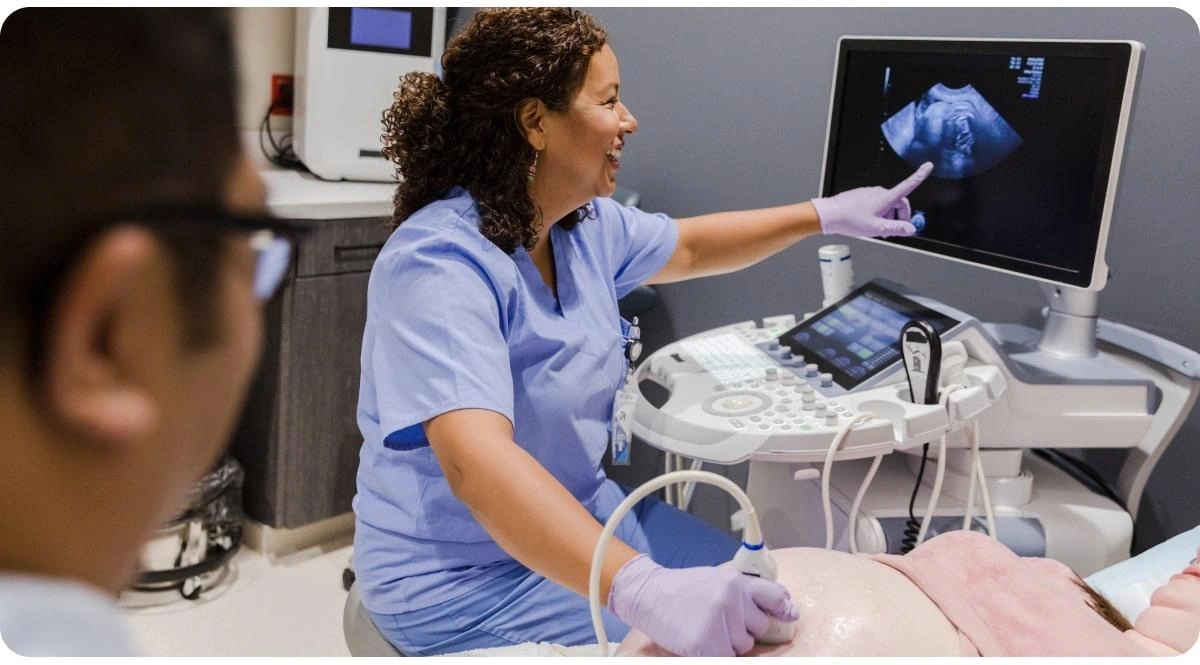 The NIBIB states that, "one of the most common uses of ultrasound is during pregnancy, to monitor the growth and development of the fetus, but there are many other uses, including imaging the heart, blood vessels, eyes, thyroid, brain, breast, abdominal organs, skin, and muscles." 
It's never been a more exciting time to be a traveling ultrasound technician as technological advancements within the field have led to some truly incredible healthcare implications. Peconic Bay Medical Center published an article in 2019 that details some of the latest advancements:
Volumetric ultrasound creates more in-depth imaging
elastography helps physicians get a closer look at tissue stiffness
CEUS (contrast-enhanced ultrasound) has proven effective in tumor detection.
Browse medical sonographer travel jobs

See jobs
Types of ultrasound tech travel jobs
At Nomad Health, you'll find different types of travel ultrasound tech jobs that match your specific subspecialty. Here are a few examples of the types of common ultrasound travel jobs listed with Nomad: 
Travel medical sonographer (general)
A travel medical sonographer is an ultrasound technician with a solid, generalized foundation who's comfortable working with a wide range of patients.
Travel adult echocardiography
A travel adult echocardiographer is an ultrasound technician that specializes in working with adults. 
Travel pediatric echocardiography
A travel pediatric echocardiographer is an ultrasound technician that specializes in working with children. Not only do they have knowledge of pediatric anatomy, they're able to work with younger patients (and their families) that may be nervous or distraught.
Travel fetal echocardiography
A travel fetal echocardiographer is an ultrasound technician that monitors the heart rate of a fetus. By checking the heart rate, possible defects or complications may be identified earlier on, increasing treatment options. 
Travel vascular technology
A travel vascular tech is an ultrasound technician that specializes in working with vascular disease. They use special ultrasound technology to identify any clogs or blockages within blood vessels, and work closely with surgeons and cardiologists.
Travel cardio sonagrapher
A travel cardio sonographer is an ultrasound technician that works with patients with heart conditions. They use the technology to get imaging of the heart, and commonly perform a test called an echocardiogram. 
While different ultrasound tech specialties have slightly varied requirements at Nomad Health, there are a few commonalities:
Applicants must have a Basic Life Support certification
Applicants must pass our Adult Echocardiography skills checklist
Applicants must have at least two references.
As far as which states have the highest demand for travel ultrasound techs, it varies by subspecialty. Texas, Georgia, and Florida currently have the highest number of Nomad job listings for Adult Echocardiography travelers, but that differs for Fetal Echocardiography, for example.*
*Subject to change. Based on Nomad Health job data taken on March 31, 2023. 
Browse adult echocardiography travel jobs

See jobs
How to become a travel ultrasound tech
Due to the versatility of the technology, traveling ultrasound techs can choose to specialize in many different areas. Each subspecialty has different on-the-job experience requirements and certifications, but in general, the path to becoming an ultrasound tech begins with schooling, which can take as little as two years to complete. Compared to other medical career paths, that's significantly less time, and techs can get started in facilities relatively quickly.
Step 1: get a degree
Traveling ultrasound techs should start by earning an associate's or bachelor's degree, and getting a certificate from an accredited ultrasound program. While certifications are optional, most facilities require them. Obtaining one or more could increase job, travel, and financial opportunities.
Step 2: get certified
The American Registry for Diagnostic Medical Sonography, or ARDMS, is a well-known organization that provides certification for ultrasound techs. They offer a number of certifications for different specialties, including the Registered Diagnostic Medical Sonographer (RDMS), Registered Diagnostic Cardiac Sonographer (RDCS), and Registered Vascular Technologist (RVT). The ARDMS also offers the Registered Musculoskeletal Sonographer credential (RMSKS), and the Midwife Sonography Certificate.
Other popular credentialing organizations include the Cardiovascular Credentialing International (CCI) and American Registry of Radiologic Technologists (ARRT).
Step 3: continue your learning
Traveling ultrasound technicians can boost their hireability and salary by earning their Advanced Cardiac Sonographer (ACS), Registered Cardiac Sonographer (RCS), or Registered Phlebology Sonographer (RPS) from the CCI. Each certificate requires passing a knowledge-based, multiple-choice exam. The ARRT currently supports 15 credentials, including Breast Sonography (BS), Vascular Sonography (VS), and Sonography (S). In order to earn one of these certifications, you must have an associate's degree (or higher) and have completed an ARRT-approved educational program. 
Step 4: get hands-on experience
Travel ultrasound technicians work directly with patients who may express some discomfort during their ultrasound. It's important that ultrasound techs have good interpersonal skills, and can help put their patients at ease. Ultrasound techs are also constantly working with other members of a facility's staff, and should be able to communicate quickly and efficiently while working with and around technology.
Browse cardio sonographer travel jobs

See jobs
Frequently asked questions about travel ultrasound techs

According to NurseJournal, traveling ultrasound technicians make the most money in California, Hawaii, Washington, and Oregon.


Yes, traveling ultrasound techs are in high-demand. Due to the many implications of ultrasound technology, its uses are nearly endless, and the technology is still improving in exciting ways. According to the US Bureau of Labor Statistics, "overall employment of travel diagnostic medical sonographers and cardiovascular technologists and technicians is projected to grow 10 percent from 2021 to 2031."


According to ZipRecruiter, the average travel ultrasound tech makes just under $51 an hour, or about $2,031 a week. At Nomad Health, the average ultrasound technician makes about $2,600 a week, or $66 an hour.

Our recruiter-less, digital-first talent agency allows us to pass significant savings to the pockets of our travel community.

Subject to change. Based on Nomad Health job data taken on March 31, 2023.
Browse pediatric echocardiography travel jobs

See jobs
Travel ultrasound tech healthcare resources
Author profile

Brooklynn Johnson

Brooklynn Johnson is a healthcare writer & editor for Nomad Health. Brooklyn graduated from Western Washington University in 2015 with a BA in Digital Journalism. Since then, she's written for a number of award-winning publications, and loves working on human-interest pieces. She's been working with Nomad Health since 2022.